LCMO INTERNSHIP PROGRAM PHASE I
On Launching The LCMO Internship Program 2019
We know that the engagement of the local communities in conservation requires their daily consultations, which again requires commitment of professionals to lead and learn from them. While LCMO feels eased of Charles Ndandala's new chapter, we are at the same time excited to introduce three young conservationists who have joined us at LCMO to share and apply their classical and theoretical experiences and bring forth their passion as well as learn in regard to wildlife conservation practices and program operations for the lasting conservation and community –wildlife coexistence. Ms. Neema Mwaja, Mr. Gilya Lino and Ms. Prisca Luvanga become our first prototype of our newly established internship program intending of raise and develop conservation careers of our fellow young conservationists in Tanzania. We expect them afterward to join our conservation efforts to tackle conservation issues: human-wildlife conflicts, climate change impacts, poaching and habitat loss all which contribute much into the increasing species migration and or loss whose final results being extinction of species. We wish we had enough resources to support more conservation ambitious graduate youths! Our plan is to recruit at least one intern in every three months through this program. We appreciate so much Nomad Tanzania Trust and National Geographic for supporting this program and promise all our supporters that we are committed and we will continue to passionately work hard and engage the locals adjacent our reserves to promote human- wildlife coexistence and improvement community livelihoods for the better present and future world. Dear Neema Mwaja, Gilya Lino and Prisca Luvanga, We are delighted to warmly welcome you at LCMO, in the southern Western Tanzania landscape. With you, the LCMO mission and Vision will be kept alive. All the best! Jonathan Kwiyega.
I a m Neema Simon Mwaja, a graduate with BSc wildlife management at Sokoine University of Agriculture since 2015! Previously, I have been working with different conservation organizations such as Serengeti National Park including (Ikorongo and Grumeti game reserve, and Maswa game reserve), Ngorongoro conservation area authority, and World wildlife Fund for nature (WWF), and Eastern Arc Mountains Conservation Endowment Fund (EAMCEF). This course involves extensive field visit and survey on protected areas as well as extension education to local communities on why they should participate on conservation issues resolution. Currently am working as Interns project officer at LCMO working in villages bordering Katavi National Park, during this project I am interested on improvement process of the conservation service in community livelihoods.
As Volunteer at LCMO, Mr Gilya Lino will assist Program Managers to oversee all indoor and outdoor activities. Gilya holds BSc Wildlife management and MSc. Ecosystem Science and Management from Sokoine university of Agriculture, Morogoro. Nevertheless, he has attended several short courses related to conservation, including Certificate of Climate change online course, at Cornelly University in USA, Certificate of East Africa Ecology and Evolution at Udzungwa and Mikumi National Park. Under Copenhagen University, Training on Social and economic implications of Community based Conservation in Kenya and Tanzania at Nairobi University. Gilya's passion lies on Livelihoods, biodiversity conservation and climate change.
Ms Prisca Luvanga is a graduate from Sokoine University of Agriculture pursued BSc in Wildlife Management. With notable achievements from different experiences, she has worked with UNHCR in Kigoma region, Kasulu District at Nyarugusu refugee camp as project officer where she worked to promote environment protection. Ms Prisca has worked as research assistant in Chunya coal mining plantation collecting data on environment assessment to discover what will be the effect on environment when the plantation will be constructed. As an intern, her expectation is to co-work with the LCMO team to convey conservation message as we lead the locals while learning from locals as means to halt the lion killing in villages that are around the protected areas including the strengthening good environment conservation practices among communities around third largest Katavi National Park in Tanzania
FROM OUR FORMER VOLUNTEER…
Utku Kuran from Turkey joined our organization as a volunteer in November-December 2018. He engaged in community education and environmental conservation programs with the VIMA & WASIMA projects in the villages of South Katavi National Park.
During the project, he aimed to work on the improvement process of the conversation practices and environmental education activities with capacity building programs in schools and villages. He is currently assisting us as an online volunteer. To guide the next volunteers and share his experiences in Mpimbwe - Rukwa region we had a brief interview with him.
How did you find us and how your adventure started?
I have always been interested in issues regard to human development and environmental conservation. During my university studies, I strive to strengthen my knowledge of conservation ecology, sustainable development, and environmental management. Those courses led me to realize my passion for developing solutions particularly on land conservation, biodiversity rehabilitation, and rural development. Also, there is urgent need from youth to take action to mitigate, collaborate and work for protecting the earth's natural resources. These were my primary motivation to participate in a project on conservation and development. Therefore to become more experienced in the field, and to create more tangible solutions for both rural communities and nature conservation I started to search for a new experience.
To understand the global conservation issues on biodiversity rehabilitation and rural development I began to look for the projects in the National Geographic website. Then I found a project which was related to illegal lion killings in Africa, Tanzania. The more I read the details about the project the more I became interested. The organization and its projects were geared towards raising knowledge and awareness about wildlife and the natural world. Illegal hunting for lions and ivory, extensive tree-cutting, and unplanned land use change were a focus of the projects. Additionally, youth are often involved in these illegal activities for both economic gains and through lack of environmental awareness. By participating in these projects I could observe daily life challenges in communities and experience global concerns such as poverty, quality education, climate crisis, and land conservation on the ground.
From indoor to outdoor classes, community education has a vital role in the overall success of environmental management efforts of LCMO. By collaborating with researchers and the local community, I attended various school outreach programs, village council meetings, documentary shows, daily park trips, and tree nursery practices. By participating in those activities, I aimed to encourage the local community to aware of and appreciate the value of natural resources and a rich ecosystem of KNP.
During the projects, I engaged with students during field trips. I have the opportunity to observe local culture and lifestyle with its educational activities. One of the most crucial points that I learned on environmental education activities was the importance of obtaining people's cooperation on conservation and its demonstration that how it benefits to them. In each project, while working on conservation practices with communities, it was crucial for me to grasp the benefits and role of the conservation outcomes both for the well-being of people and nature as well.
I involved in different activities during the volunteer project;
Uncontrolled population growth around Katavi National Park and Rukwa Game Reserve forced to clear the large areas of trees for cultivation (farms), cattle grazing and fuel-wood in recent years. These all have a crucial effect on land degradation, habitat and biodiversity losses in the region. Most importantly, these activities provoke lion attacks to livestock and increase the conflicts between human-wildlife in the region. Because of the cultivation, fuel, and over-grazing, people cut down trees far faster than the plants can grow back. Local people's main income activities are mostly depended on nature however because of the deforestation activities and climate change losing the fertile soil triggers the decline in crop productivity, quality and the extreme poverty level in communities.
Avoiding the rampant deforestation activities is changeling because it is hard to find industrial material and transferred natural gas by the government. Additionally, although it is possible to find bio gas in the region the price is not affordable by the local members. On the other hand, lack of job opportunities and low growing economy push people to either to cultivate or cattle graze. Lack of alternative sources pushes people to cut down trees in high amount numbers in each day. Projects in LCMO aims to work for the benefit of biodiversity rehabilitation while creating job opportunities for people and supporting their financial well-being.
Alternative livelihood projects, environmental workshops, tree planting activities were some environmental education programs I involved. By programming these kinds of income generating activities, we aim to help youth to establish their own income practices to help them to support their families as well. Additionally, while arranging those activities it was an opportunity for me to cooperate with diverse community members from government leaders to farmers, students, and other non-governmental national-international organizations.
• Establishment of tree nurseries in primary/secondary schools.
Purpose: Tree nurseries often provide income-generating opportunities for the local community to enhance the social capital, technical capacity, and leadership skills. In different villages and schools, smallholder tree nurseries serve important training and research ground for many community members. As village members and students are part of the environmental education concerns, to create higher environmental consciousness and awareness is highly important. Tree nurseries are excellent learning centers for all community members.
Environmental clubs and self-sustain nurseries contribute significant environmental awareness and this is one of LCMO's priority. Through environmental education activities not only students educated but also their families benefited as well. They can develop new capabilities and the confidence to improve, conserve their lands through small-scale tree farming. One crucial reason is to establish the tree nurseries is to build self-help and self-sustaining local people and to arrange a network to meet with the community needs. They are significant sources to tackle the climate crisis, skills development, biodiversity rehabilitation, and economic growth. By establishing new tree nurseries LCMO aims to reduce timber collection from the forest and helps to mitigate the deforestation effects while contributing to biodiversity conservation in Southern Katavi National Park.
For LCMO, nurseries are excellent tools to promote environmental conservation for farms and livelihoods. During the projects, I participated in two tree nursery establishments. With the partnership of NOMAD TANZANIA, we arranged a compost training workshop for the local community as well. These efforts strengthen local livelihood development and sustain public reforestation initiatives. In many areas where nursery development has flourished, community become more consciousness and soil fertility increases in short terms.
• Environmental education programs in primary/secondary schools.
Purpose: Environmental education is significant to sustain livelihoods. It helps youth to aware of and appreciates the value of natural resources and ecological processes beside protected areas. Education programs help nature depended on communities to understand what threatens the well-being of their environment, how the environment should be managed and how they can contribute to its improved stewardship with LCMO. In education programs, LCMO's main goal is to raise conservation awareness and create solutions with the local members, especially with the youth. There are several activities held by LCMO that support students' school education indoor and outside areas. For example, I participated in daily park trips which arrange by LCMO and Tanzania National Park (TANAPA) society. This program held free for the students and aims to spread the human-wildlife co-existence and build a commitment to environmental stewardship for Katavi's next generation. During the park trip as a volunteer, I had the chance to observe Katavi's wild-life on the ground, observe various species. The program also aims to encourage people to understand the importance of environmental conservation and make them aware of Katavi National Park's existence with its rich biodiversity.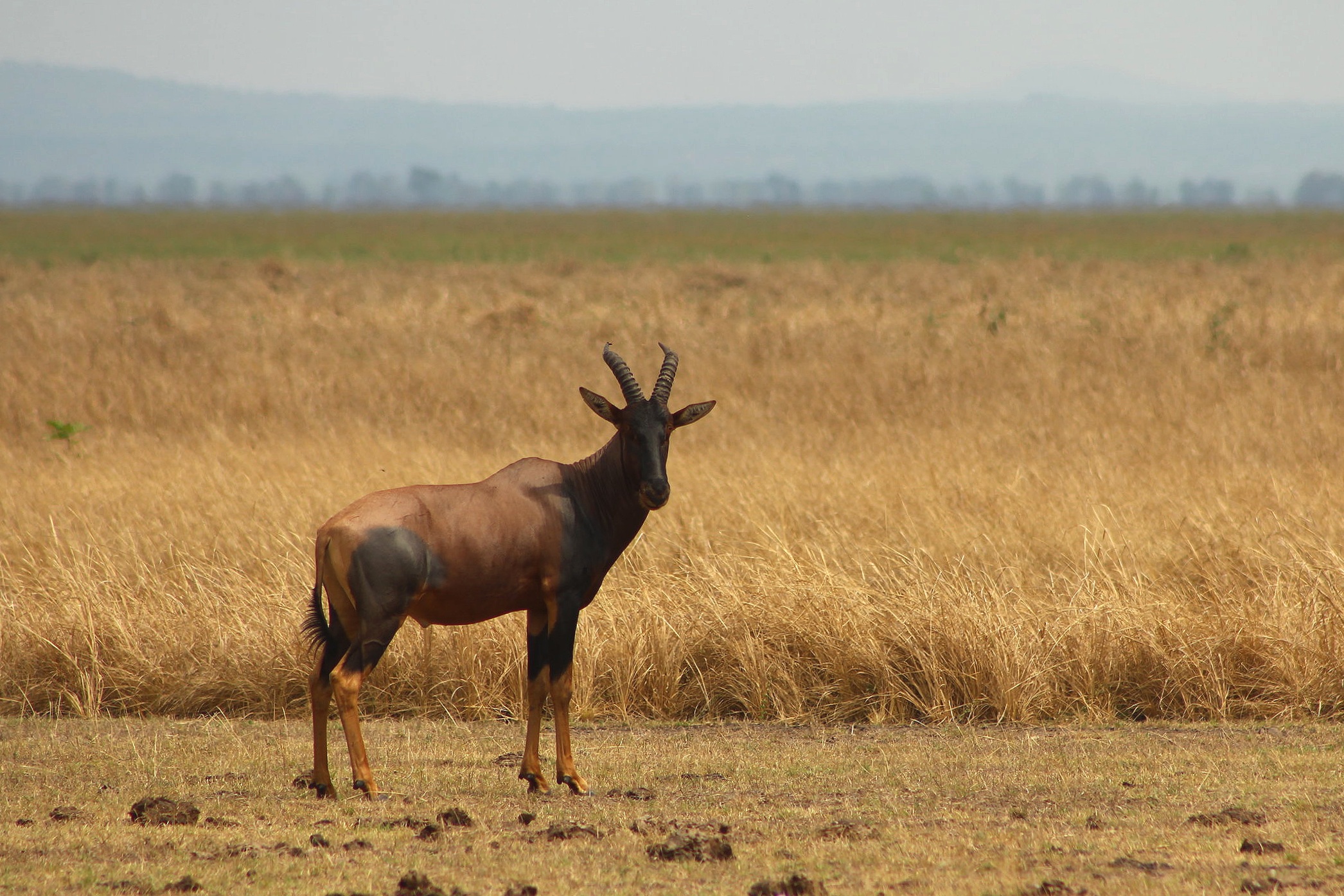 Environmental education is a critical and long term strategy that leads to the creation of an environmentally-conscious society. It helps to inspire today's youth to protect tomorrow's wildlife. Improving the sustainable practices and conservation efforts for land rehabilitation and ecosystem generation in the region is vital for wildlife conservation efforts. During the projects, experiencing and observing conservation practices in the national park and attending to several outreach programs showed me the importance of our dependency on nature on the site directly. From workshops to student programs I participated in climate emergency adaption and mitigation practices in schools, compost training, documentary, and film shows as well.
• Documentary/movie showings and workshop with Wild Nature Institute on giraffe training
Purpose: Opportunity costs for conservation generally fall on the shoulders of economically disenfranchised local people and communities. Rukwa-Katavi ecosystem becoming isolated from wildlife and region is experiencing a resource extinction. The borders of Katavi National Park is suffering from isolation, environmental change, loss of wildlife and resources. Lion poaching is one of the biggest threats to sustainable development in the region. One of the tools to decrease poaching is arranging documentary screenings and related education seminars in the villages. These program has various benefits for the organization for direct interaction with the communities and assists them by using mixed approaches to protect wild-life especially lions. Discussing and searching for the solutions with community leaders through movies is an efficient method of explaining them sustainable natural resource usage and importance of wild-life coexistence.
In addition to documentary shows, it was very beneficial for me to arrange a giraffe training workshop with Wild Nature Institute for the school teachers. With the support of the PAMS Foundation overall aim was preparing three-day workshop to develop teachers' knowledge and abilities. The workshop aimed to educate teachers on population, unique features about giraffes. However, it was sad that teachers didn't know giraffe as the national animal of Tanzania and many of them never seen it before. With Ms. Lise Levy's educational activities and practices, teachers became more aware of the natural habitat of the giraffes in Katavi and interested in the lectures. At the end of the training, I observed that teachers became highly motivated and acknowledged of their environment. They had a great time reading the Juma the Giraffe storybook and learning about what makes these mega-herbivores so special. Lectures continued with unique patterns, population characteristics and natural selection of giraffe's.
• Village Council meetings in Kabunde & Ikulwe villages
Purpose: Arranging two village council meetings with 40 council members helped me to understand the vital role of policy-making procedure around Katavi National Park. It is important to halt the traditional non-retaliation lion killing practices arising from livestock keeping communities and applying traditional policies around Katavi National Park. To avoid and reduce the number of conflicts between wildlife and natural habitat with people, implementing the policies by village meetings is part of the solution process. The overall aim of these meetings is implementing the by-laws for raising awareness on protected area conservation and application of traditional judicial frameworks in villages.
In order to legalize the by-laws, LCMO works with the district director, district lawyer, village natural resource committee, environmental committee, land use committee, and village committees. The collaborations between council and committee members done by SunguSungu groups in the villages. Sungusungu is a social traditional security system established by councils in recognition of their actions upon security and safeguarding social discipline, a policing body to enforce the by-laws under the council's supervision. By cooperating with the council, Sungusungu group shall have the mandate to establish action plans for implementing the laws. Additionally, they can collaborate with other Sungusungu communities and village environmental committees from other villages and arrest people, conduct awareness programs on protection and wildlife conservation seminars. There are 18 villages that already LCMO works with Sungusungus. Educating and introducing people with by-laws promotes the effectiveness of ecosystem services and reduce the economic growth gaps between the villages. The organization arranges several seminar sessions for the environment officers in the villages, police officers, primary and secondary teachers, wildlife officers.
Traditional policy system
By-laws divided into two categories; rural and national law. Implementation and adoption of these laws are significant to maintain and increase the general conservation efforts in border villages by local people. Laws chose by village councils and implemented by the traditional voting system. However, adoption to these laws sometimes might be difficult for the local communities and it differs from high-income level to low-income level individuals/families. Implementation of these laws generally targets late adopters because of their dependency on nature. On the other hand, higher income level individuals/families can adapt to laws and conserve ecosystem more seriously. Therefore, laws are mainly prepared to strive and aims for lower income level people in society to make them involved in the process.
Women are primary caretakers and their activities are directly impacted by biodiversity loss. It is important to introduce and spread awareness among women for proposed biodiversity-related actions, the policies and regulations during the council meetings. Women's role in the councils is very crucial for LCMO because it is urgent to build their knowledge of conservation practices and their options for contributing to shaping those actions. The organization aims to encourage women empowerment during the decision-making mechanism. Members from different committees aim to connect with other village council members because collaboration with the village assembly is a significant part of the implementation process of the policies.

LCMO believes that enabling women's full engagement in conservation decisions is critical to ensure biodiversity conservation and sustainable use in the long term. Women have to be involved and actively work in the process of policy making for conservation efforts because they play critical roles as primary land managers and resource users in their communities.
What did I gain from my volunteer experience with LCMO?
As a current online volunteer at LCMO, this project wasn't beneficial only for my future studies but also for my professional career as well. It was effective to become a more durable person while tackling challenges, observing realities and inequalities in our society. Personally, I believe that as humans we should always be open to new experiences and challenges in life because they are the ones shaping us and make our environment a better place.
By participating in various programs while collaborating from different ages and social level people I had the chance to discover their perceptions on environmental protection. During the projects, by working with students to district officers I improved my social communication skills and had the chance to listen, share ideas together with the local community. LCMO's people-centered and ecosystem-based projects led me to realize follow my passion for rural development and environmental conservation much harder and take my future decision actions one step further.
Without great cooperation with LCMO team members, all of my experiences would not be as effective as to achieve and act together in harmony with community members. Involving in different programs and practices was benign to become a much more conscious, equipped individual to comprehend the linkages between poverty, land conservation, quality education, and climate emergency in the villages of Katavi National Park.
Involving in different programs and practices was benign to become a much more conscious, equipped individual to comprehend the linkages between poverty, land conservation, quality education, and climate emergency in the villages of Katavi National Park. In terms of practicing, experiencing the conservation efforts and its educational activities it was important for me to grasp the conservation and development efforts for my both academic and social career in the future.
Additionally, as an amateur photographer, improving new approaches for my photography skills was another opportunity. From a photographic perspective, thanks to this volunteer project I developed different aspects, perceptions and found the chance to use my photographs as a tool for conservation efforts and my earth of voice. Blending myself with the local life and unique culture in the region I had the chance to observe the close connection between economic inequalities and human dependence on nature.